UNIWES PROCESS & AUTOMATION EQUIPMENT
Scrubber System (Odour and Air Pollution Control)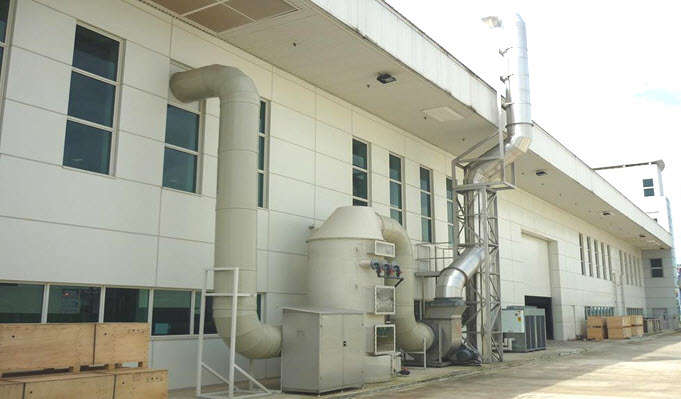 SCRUBBER SYSTEM (ODOUR AND AIR POLLUTION CONTROL)
UNIWES design, install and service air-scrubbing systems for a wide area of applications and industries including:

• Process exhaust from high-tech semi-conductor, Chemical and photo-voltaic industries
• Process exhaust from surface Treatment industry
• Odour nuisance generated from sewerage treatment plants, pumping stations, sludge treatment and composting plants
• Biogas purification and upgrade for use as combustion fuel
• Odour nuisance from tobacco and food industries
• Flue-gas from ship propulsion and power-generation engines
• Flue-gas from power-generation and incineration plants

We provide comprehensive solution to treat wide range of contaminants including acids, caustics, NH3 , NOx , SOx , VOC, solvents, sub-micron particles and H2S etc which are carried in process exhaust, flue-gas emissions and malodorous fugitive gases.

Our worldwide installations numbered to more than 60 in total. Our substantial market share is a strong testimonial of the confidence we have gained from our satisfied Customers, built over the years. Our portfolio of technologies include :

• venturi-scrubber
• activated carbon filter
• cross-flow scrubber
• counter-flow scrubber
• dual-flow filter
• dry fabric-filter
• bio-trickling filter & bio-filter
• ionizing wet scrubber


UNIWES offers a variety of Scrubber Systems specifically designed for your process application, using our experience and knowledge to provide the engineering solution for your process.



SCRUBBER INSTALLATION FOR CHEMICAL PLANT

Modern and fully customizable controls are incorporated to suit each customer's need
Important operating variables are thoroughly considered when designing the size and type of scrubber
Complete system of scrubber, ductwork, fan, pump & piping, mist eliminator and exhaust stack
Designed for performance and effectiveness, making sure the system and emission are authority-compliant
Maintenance platform provided for maintenance and calibration testing
We understand that your compliance to regulatory requirement and corporate value to minimize waste is important. Our technical knowledge and know-how can help our customer to develop an engineering solution - a pollution control system which will be efficient and effective into the future.

Contact Us for more information !